Prenatal and Postnatal Health
Prenatal Education and Support
Prenatal education and support is available in group settings and also one-on-one with individuals based on need through our regional Community Health Offices. Community health nurses also support the services offered by community partners such as Family Resource Centres through the Healthy Baby Club program.

Our prenatal education programs are flexible and designed to best meet the needs of pregnant women and their families.
Free Online Prenatal Education ("InJoy")
To register, send an email to babiesonline@easternhealth.ca requesting access to online prenatal education/InJoy. You will receive an email inviting you to create a unique password and log in to your account (the email will come from an "@easternhealth.ca" email address).
Already registered? Log in here.
Contact your Public Health Nurse for immunizations and other prenatal support.
Healthy Baby Club

Healthy Baby Club is a prenatal nutrition support program offered by Family Resource Centres for eligible women who may need extra support during and after their pregnancy. Healthy Baby Clubs are offered by Family Resource Centres throughout the Western Health region.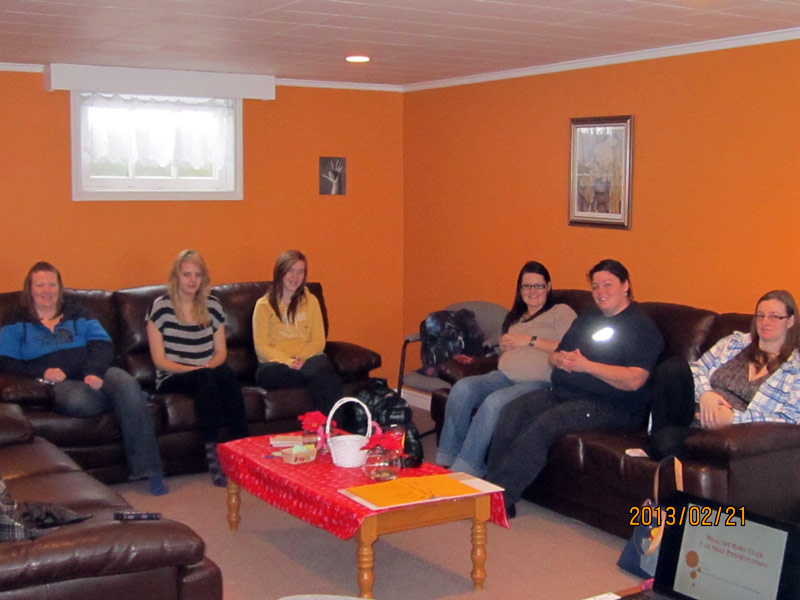 B.A.B.I.E.S. Program
The B.A.B.I.E.S. program (Before Birth and Beyond: Information, Education and Support) is offered by community health nurses. The main goal of this program is to promote healthy pregnancy (and healthy eating during pregnancy), birth and early parenting. This service is initiated by the Community Health nurse completing an assessment with the pregnant woman for the purpose of identifying her education and support needs. Access to this program can be done through a referral from other health care providers such as family physicians or from the pregnant woman herself.
You are encouraged to call the Community Health Office nearest your community for more information.


Partnerships
Family Resource Centres - Western NL
| | | |
| --- | --- | --- |
| Name | Location | Phone Number |
| | Stephenville | (709) 643-5399 |
| | Corner Brook | (709) 634-2316 |
| North Shore Early Childhood Committee | Meadows | (709) 783-2996 |
| | Deer Lake | (709) 635-5808 |
| | Port Saunders | (709) 861-4047 |
Resources
A Healthy Start for Baby and Me
Prenatal Infant Nutrition Supplement (PINS) (1-800-508-4788)
Your Guide to a Healthy Pregnancy
Your Guide to Postpartum Health and Caring for Your Baby
Infant Jaundice (Revised 2021)
Calming a Crying Baby (Revised 2021)

Healthy Beginnings Program-Support for Newborns, Young Children and their Families
Our Healthy Beginnings Program provides support and services to all families with newborns, infants and young children from birth to five years of age.

The goal of this program is to offer support at various stages to assist infant and young children in achieving a healthy start in childhood.

Services provided through the Healthy Beginnings Program are voluntary, free of charge and confidential.

The Program begins with the birth of your baby. A community health nurse will contact you within a few days of your hospital discharge to see how you and your baby are doing and offer support. Home visits are provided based on your needs in adjusting to parenthood and caring for a newborn.
You can receive information and support about:
Feeding your baby including breastfeeding which provides the best nutrition for your baby
Staying physically and emotionally healthy
Encouraging your baby's growth and development and the importance of early learning and child development
Keeping your baby safe from physical harm through immunization, car seat safety, providing a smoke-free environment, and following tips for preventing Sudden Infant Death Syndrome (SIDS).
Resources

"You and Your New Baby" is a provincial postnatal resource package that is available to families of newborns. This package contains a variety of resource materials to support families in promoting healthy child development.

"Your Developing Baby" /"Your Developing Child" is a series of nine pamphlets printed by the Department of Health that focus on child development at a variety of stages from three months up to five years. These stages include:
Three months
Six months
Nine months
12 months
18 months
24 months
Three years
Four years
Five years
Car Seat Safety - Transport Canada
Mother Baby Nutrition Supplement - 1-800-508-4788
Partnerships

We have many partners within Western Health and in the community that increase awareness of and provide support around topics such as breastfeeding, childcare and early child development. Some of these include:
Community Based Rehabilitation Services:
Janeway Outreach Service
Child, Youth and Family Services
Department of Health and Community Services
Family Resource Centres (see above)

Contact Information

For more information, please contact your local Community Health Office
Monday to Friday 8:30 a.m. - 4:30 p.m. We are here to help.
Resources
Department of Health & Community Services - Brochures, Pamphlets and Other Resources - Child Health
Mother Baby Nutrition Supplement
A Parent's Guide to Home Safety (Child Safety Link, NS)
Kid's Health and Safety - Government of Canada
Eastern Health - Health Information