Smoke-Free Policy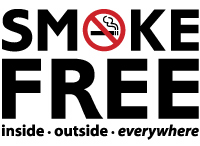 Western Health is smoke-free inside, outside, everywhere.
Western Health is proud to work with our communities to create a healthy, smoke-free environment. Thank you for helping us improve the health of our community by not smoking anywhere on our properties and during home visits by Western Health staff.

We are committed to improving the health of our community.
Your cooperation with our smoke-free policy is appreciated.

To view or print any of the resources (PDFs) click on the links below.
• Smoke-Free Properties Policy
• Smoke-Free: Questions and Answers

• Smoke-Free Brochure

• Smoke-Free Card


For more information on how to quit smoking and to learn about Western Health's tobacco reduction initiatives, click here.