Western Health Seeking Patient and Family Advisors
Oct 8, 2019
---
Western Health is seeking volunteers to participate as Person and Family Centered Care (PFCC) Advisors. Being a PFCC Advisor is a way for patients and families to work in partnership with health professionals to shape policies and programs, and to improve the health care system and services.
"It is clear that feedback from patient representatives is very important to Western Health, and they will use it to improve services to patients. If you have ever been a patient or a client of Western Health, and you want to bring your ideas directly to the people in charge, this is your opportunity."
-Phil Smith of Stephenville Crossing, former patient of Western Health and member of the Person and Family Centred Care the Steering Committee
Those interested in this volunteer opportunity should visit Western Health's website to complete an Expression of Interest.
For more information, please e-mail marielparcon@westernhealth.nl.ca.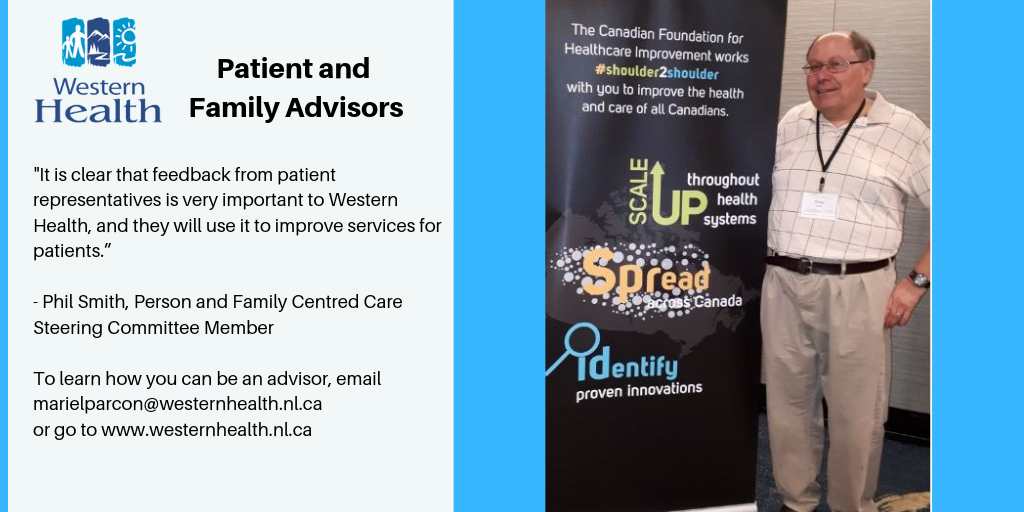 -30-
Media Contact:
Tara Pye
Director of Communications
709-784-5252
tarajpye@westernhealth.nl.ca